Map and description of the Mountain lodges Dolomites Alps Italy
Trekking trip hut-to-hut in the Brenta Marmolada Pasubio Dolomites
Move the mouse over the map to find the mountain lodges (rifugi alpini) and click to read the related links in the Adamello, Presanella, Brenta Groups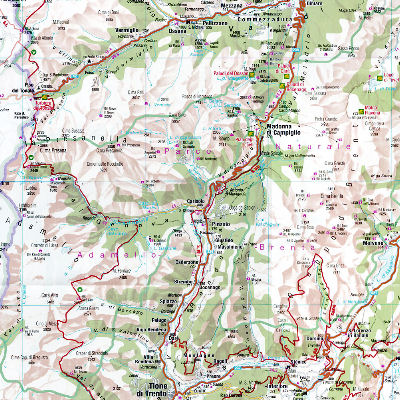 List of the Mountain lodge near Lake Garda and Pasubio Dolomites Italy:
Rifugio "Nino Pernici" - Riva del Garda
Rifugio "Marchetti" - Monte Stivo
Rifugio "Graziani" - Monte Baldo Group
Rifugio "Damiano Chiesa" - Monte Altissimo - Baldo Group
Rifugio "Monte Telegrafo" - Lake Garda
Rifugio "Vincenzo Lancia" - Pasubio Dolmites
Rifugio "Generale Papa" - Pasubio
Rifugio "Campogrosso" - Pasubio
Rifugio "Fraccaroli" - Pasubio
Rifugio "Pian dei fiacconi" - Marmolada
Rifugio Capanna "Punta Penia" Marmolada

The demand for mountains by visitors to Trentino, is constantly growing. The desire for clean and uncontaminated places, for peace and quiet and for relaxation and physical health is realized among the peaks, meadows and forests in wide open silent places. A mountain that an increasing number of tourists and holidaymakers wish to experience and enjoy (in contrast with the seaside that is more and more polluted and chaotic). This may explain the boom registered in the recent summer seasons.
Those who want a mountain holiday have no end of possibilities to choose from in Trentino. Every valley resort, whether large or small, has its own special features and can offer a holiday made to measure. Holidays here range from simply walking on the over 6 thousand kilometres of carefully maintained paths to high altitude ascents on rocks and ice along prepared routes; from outings of a few hours to long traverses that take several days.
Trentino offers an infinite number of possibilities with one prevailing feature: a landscape which changes according to height and area, but is always extremely captivating. The 141 alpine refuges lie in strategic points in the Trentino mountains and 39 of them belong to the SAT and others are privately run. These, all together, provide over 4 thousand 500 beds. In the light of the new trends, characterized by a strong "demand for mountains", these alpine refuges have become outposts in the Province of Trento for experimenting technological innovations to cope with problems caused by man in the mountains.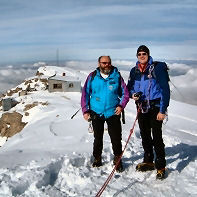 The highest Mountain lodge (Rifugio Alpino) in the Italian Dolomites:
the "Capanna Punta Penia" on the top of Marmolada m. 3.346
HIGHLIGHTS ON ROCK CLIMBING, HIKING, VIA FERRRATA AND TREKKING BY
MOUNTAIN GUIDES SCHOOL ARCO LAKE GARDADOLOMITES ALPS TRENTINO ITALY
Our highlights regarding trekking hiking via ferrata at Lake Garda or in the Dolomites or on the Greek Island Kalymnos have not been chosen by our alpine mountain guides school but are the preferences of our customers in the 20 years of our activity. Please click on the image for a complete program of our trips and courses.
Our links of hiking trekking hut to hut
Guided trekking and Hiking in Greece on Kalymnos Island
Mountain lodges (Rifugi alpini) in the Alps
Trekking holiday week at Lake Garda Alps
Our mountaineering hiking and trekking trips
Trekking hiking by Mountain Lodge Association
Trekking in the snow hiking trip at Lake Garda